Remember my last post, where I showed you my WIPs?
Yeah, I didn't work on them at all last weekend :P But we all know how it goes: we order yarn for future projects, and then it comes in, and it looks so yummy you just HAVE to make something with it RIGHT AWAY – please tell me I'm not the only one who can never resist the temptation! ;)
I was surfing the web and came across something called 'overlay crochet'; have you ever heard of it? Some examples:

image c/o danielasneedleart – click image to go to blog

image c/o crochetbug – click image to go to blog
Daniela from danielasneedleart wrote a post about overlay crochet here: http://danielasneedleart.wordpress.com/2012/01/07/overlay-crochet/
In her blog post she mentions CaroCreated Designs, on Etsy, who sells overlay crochet patterns.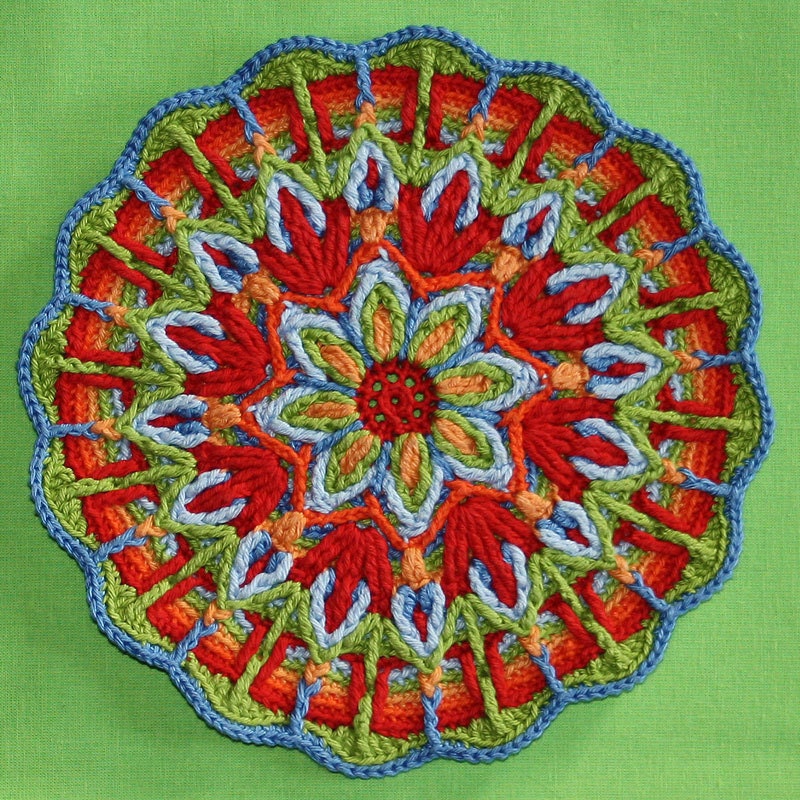 image c/o carocreated designs, click on image to go to etsy listing
Gorgeous, right? :) So I went ahead and ordered the pattern, and a couple of hours later it was in my inbox and I was overlay-crochet'ing away! :)
Here's the result! Tadah! :) :) :)
Gorgeous, right? ♥ I had so much fun using this new-to-me technique. Overlay crochet is based on single crochet rows, in which you crochet into the backloops only, thus creating an 'empty' front loop to work in the next rounds. It looks complicated when you first see the pattern, but after a few rounds it all makes sense and you really start to get the hang of it! I thought this mandala was going to take forever to make, but in the end I only spent a couple of hours working on it, so it can be easily made in an afternoon or two. It is for the more experienced crocheter though. I would not recommend this for a beginner.
Because it was so big and because I wanted to hang it on my wall, I hand sewed this mandala to a piece of felt for stability.
And I made another little, non-overlay mandala, using this cute pattern from Barbara over at Made in K-town: http://made-in-k-town.blogspot.de/2012/05/little-spring-mandala.html
This one is much smaller than the overlay crochet mandala, but as a result of that also a lot quicker to make! :) I made this one in about an hour. You can vary endlessly with this pattern; just changing the colors will change the look of it so much, that it will look like a completely different mandala :)
And here they are hanging on my wall, keeping my guitars company. I plan on making a lot more circular mandalas/potholders to decorate this wall with. It will be totally groovy ♥
What did you make this weekend?
xo,
wink