Hey people! :)
So the past few days have been amazing; some of my pictures were featured on craftgawker.com (here and here) and I got a mention from The Creative Crochet Crew on Facebook, and as a result my visitor stats are through the roof! I literally could not believe my eyes when I checked into the admin-part of my blog. So many new people have visited! :D
I wanted to do something to welcome all those new people. The most popular post of the past weeks is definitely the overlay mandala fun post, so I thought: why not organize a CAL? :)
The pattern we are going to make is this one: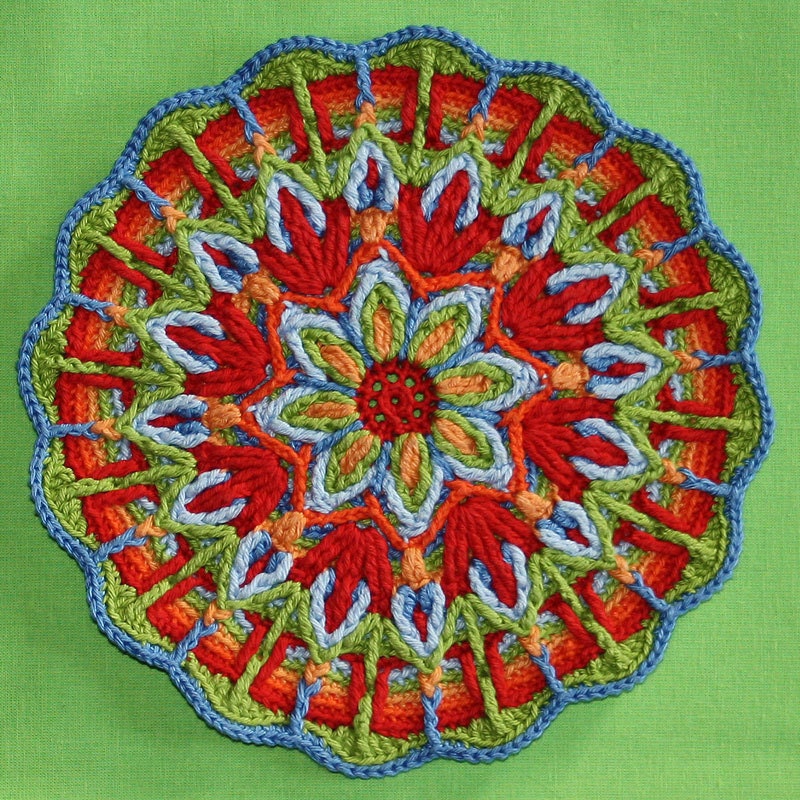 The gorgeous Overlay Mandala no.1 by CAROcreated Design!
And here's my version, for inspiration:
Now Carola has generously offered a 10% discount on the pattern for EVERYBODY who's participating in this CAL!
If you would like this discount, please let me know in the comment section. I will then send your info to Carola, who will provide you with the discount code for purchasing the pattern.
After you received the coupon code, you can then purchase the pattern here: http://www.etsy.com/shop/CAROcreated
When it comes to choosing yarn, I leave that all up to you! :) When I made my first mandala I used Drops Paris by Garnstudio, and a 4mm hook, mainly because I always have Drops in my stash.
So choose your favorite yarn in your favorite colors, add a matching hook size, and you're off! :)
This pattern is for people who've been crocheting a while, know the difference between front loops and back loops, and know how to make frontpost and backpost stitches. But if you're a beginner, and still want to make this pattern, I say go for it! :) That's what CALs are for, to learn new things and to ask others questions if you can't figure it out on your own.
I'm aiming to start crocheting this pattern in the next week, so August 13th. Monday will be my day of blogging about the progress.
I'm super excited to get this CAL started! :)
If you'd like, grab the banner below and add it to your blog, Facebook, Twitter or G+…
<a href="http://www.acreativebeing.com/2012/08/08/overlay-crochet-mandala-cal/" target="_blank"><img title="mandala_CAL-banner" src="http://www.acreativebeing.com/wp-content/uploads/2012/08/mandala_CAL-banner.jpg" alt="" width="720″ height="200″ /></a>
xo,
wink